Wastewater
Benton Utilities Wastewater Conveyance Department
The Benton Utilities Wastewater Conveyance System Department is the sanitary sewer provider for the City of Benton.
COLLECTION SYSTEM
The term "conveyance system" pertains to the extensive network of sewer mains, lift stations, manholes, and appurtenances that convey wastewater from homes, businesses and industries to the wastewater treatment plant.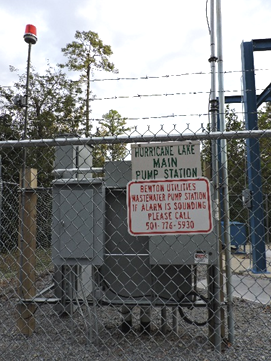 This is the Hurricane Lake Main Liftstation.
Benton's wastewater conveyance system involves more than 400 miles of sewer mains, some 140 lift (or pump) stations, and almost 5,000 manholes. The sewer mains are both forced flow by pumps and gravity flow. They moreover range in diameter from 4 inches to 36 inches. Lift stations have pumps that vary from 2 horsepower to 150.
The responsibilities of this department involve maintaining all wastewater lines, manholes, lift stations and related equipment throughout the City of Benton. This infrastructure keeps the flow sustained to the Benton Utilities wastewater treatment plant where it is purified and released into the environment. This effluent must meet, or exceed, the high quality standards of the National Pollution Discharge Elimination System (NPDES) Permit as set forth by the Arkansas Department of Environmental Quality (ADEQ) and the U. S. Environmental Protection Agency (EPA).
MANAGEMENT AND STAFF
The wastewater conveyance department manager is now responsible for overseeing the maintenance and expansion of the Benton Utilities Wastewater Conveyance System. He serves under the direction of the General Manager of Benton Utilities.  He is supported by a staff of ten employees, including a foreman, a utility coordinator, a crew leader, a chief mechanic, a safety coordinator/inspector, a videographer, a utility specialist, and several utility workers. These workers perform scheduled line maintenance, respond to blockages within the system, regularly inspect and maintain lift or pump stations, perform point repairs, rehab manholes and lift stations, inspect new construction and repairs, video mains, and do many other necessary tasks to keep the collection system operating properly. To do this, they hold numerous credentials including a Wastewater Treatment Operator's license from ADEQ, a Commercial Driver's License, along with confined space, competent person, heavy equipment, pesticide, plumbing inspection, and other certifications. This staff also responds to system service calls 24 hours a day and 365 days a year.
Besides a fleet of service vehicles and equipment, this department has a jet-vac truck which has both water jetting and vacuum capabilities. It is used to clean and remove debris from sewer mains, catch basins and lift stations throughout the collection system.
PREVENTABLE CAUSES OF BACKUPS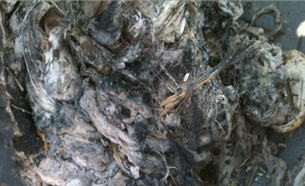 Non-dispersible materials such as wipes and rags removed from lift
A major cause of blockages to both your private plumbing and your City's wastewater collection system is "flushable" wipes. These include such items as baby wipes, paper towels, cleaning wipes and disposable mop heads. Many of these are not biodegradable. Likewise, cooking oil and grease are also detrimental to both your sewer and that of the City's. These materials, consequently, block pipes, clog pumps, cause backups and overflows, and damage equipment at the treatment plant costing both you and the City for significant repairs, equipment replacement, and maintenance expenses. Should the problem occur in your privately-owned service line, you will incur the costs personally.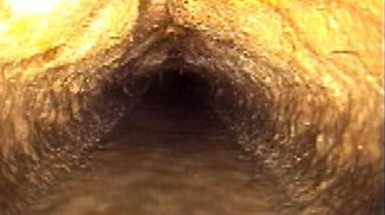 Sewer line corroded with oil and grease.
You can make a real difference by only flushing toilet paper. Cooking oil and grease should be poured into an empty can such as a soup or coffee can and thrown in the trash. You can also make an impact by spreading this information to others. Education is important in eliminating these manageable problems. Please do your part.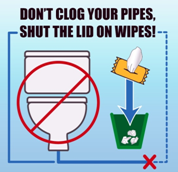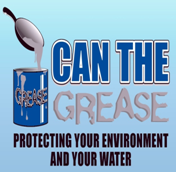 Please "Don't Clog Your Pipes, Shut the Lid on Wipes!" and "Can the Grease!"
Thank you for helping keep your sewer system flowing.
We are on-call 24 hours a day / 7 days a week.
Please call us FIRST when you experience a sewer problem.
501-776-5930
BACKFLOW PREVENTION
Every customer should have sewer backflow prevention in place. Remember, the sewer mains are installed and maintained by the City of Benton. However, the customer/homeowner is responsible for their service line to the main. This means damages to a home or business with necessary repairs from sewer backups are the customer/homeowner's responsibility. This is true even if the City's sewer main backs up.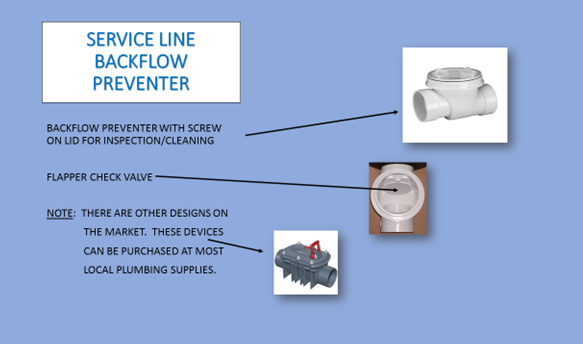 Because of the potential of backups, our customers are strongly urged to be sure that they have a backflow preventer installed in their sewer service lines. They are usually positioned outside the structure's sewer stub out. The most common type is basically a check valve that prevents the sewage from back-flowing through the customer service line and into their home or business. Most are relatively inexpensive and are easy to install and are available through a local plumbing supply. The installation can be done by the homeowner. However, a licensed plumber is recommended because of location and position requirements.
Although these devices are very effective in preventing reverse flows, or backups, they may leak a small amount because of buildup on the seal. The devices need to be checked occasionally and cleaned as needed. Proper installation will allow for good access to this device. It is important to protect access by controlling vegetation and dirt from covering the device.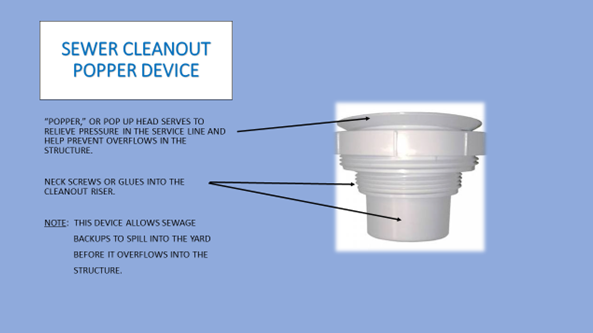 Another simple backflow preventer is the sewer cleanout popper. This device relieves the pressure in the service line before an overflow occurs within the home or structure. The overflow occurs in the yard at the service line cleanout. Some older homes do not have cleanouts and risers outside, but they are now mandatory. It is both wise and practical to have a cleanout and riser installed if one does not exist. This department recommends the installation be done by a licensed plumber.
These cleanout "poppers" are very easy to install. The large threaded plug is simply removed and the device is screw into place snuggly. If a threaded cap is not available, the device may be bonded into PVC pipe with PVC cement.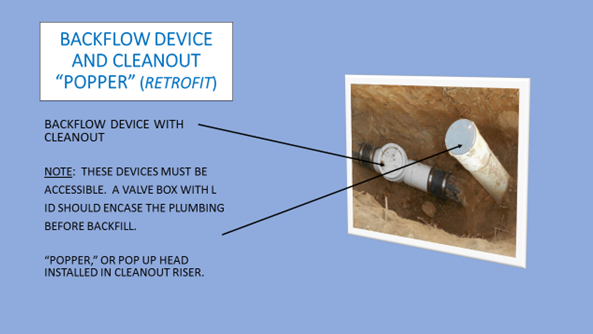 SPECIALTY WORK
Manhole Rehab – Manholes are a vital component of the collection system.  Not only do they provide access for maintenance, but they ensure uninterrupted flow in directional and gradient changes.   They must be accessible and well maintained to prevent infiltration and inflows (I. & I.) of ground water into the sewer mains.  This can result in increased costs at the treatment plant and even overflows in heavy rains.
Infiltration and inflow can occur in manholes at cover rings, loose mortar, pre-cast joints, and at pipe connections. Between 30 and 50 percent of I. & I. typically enters the system through these problem areas. Falling brick and mortar can block flow and eventually lead to a major collapse. This can result in overflows that can endanger the surrounding environment. To prevent this, manholes can be rehabilitated. This specialized work is done at a fraction of the cost of full replacement. After they have been rehabilitated, they are vacuum tested to ensure the resolution of all leaks.
Smoke Testing – In order to identify sources of infiltration and inflow, smoke testing is utilized.  Smoke canisters are discharged within manholes and sewer lines to locate these leaks.  Once this is performed, point repairs, sewer line replacement, or pipe bursting is done.  This smoke not only reveals breeches in mains and manholes, but it also isolates any leaks that may exist in the customer's service line.
Videography – This department has high-tech video cameras that are used to inspect mains.  This can be used to pinpoint problems and evaluate infrastructure that are not visible otherwise.  Together with smoke testing and other electronic instruments, this video capability is a vital tool in system maintenance, both preventative and reactive.
Pipe Bursting – This is an innovative technique that involves inserting a seamless, plastic pipe into an old sewer line and pulling it by mechanical means to "burst" away the old line, replacing it with a new one.  Each year, thousands of feet of pipe bursting are done.
IMPORTANT REMINDERS
While Benton Utilities Wastewater Collection System Department is responsible for repairing sewer mains and other city owned infrastructure, the customer is responsible to maintain their service line to the point it enters the main (Please see Ordinance: 19 of 1995 of the City of Benton).
Should a customer have a blockage in their home or business, they are encouraged to first contact the Benton Utilities dispatch operator at (501) 776-5930. An on call technician will be sent to help identify the source of the problem. Often times, this can save the customer time and expense. Such an issue is often an indicator of a greater problem within the collection system itself that can be addressed early.
Every customer is strongly urged to be sure they have a backflow device installed in their service line to prevent sewerage from backing up into their homes and buildings. A licensed plumber should be contacted for this installation.
The City of Benton is not liable for damage and remediation caused by sewer main backups having torte immunity.
This department seeks to serve the customers and residents of the City of Benton with respect, courtesy, equity and high standards of excellence.
SPECIALIZED EQUIPMENT
While Benton Utilities Wastewater Conveyance System Department is responsible for repairing sewer mains and other city owned infrastructure, the customer is responsible to maintain their service line to the point it enters the main (Please see Ordinance: 19 of 1995 of the City of Benton).
Sign Up
Email & Text Alerts