Electric Department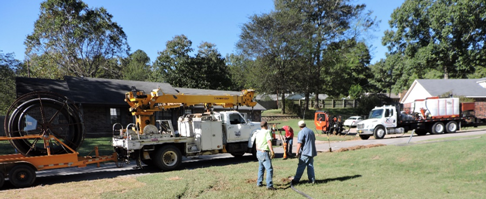 In 2015, the Benton Utilities Electric Department began a sizeable task of converting electric power from overhead to underground in residential areas.
The scope of work will including taking all the high voltage power lines off the utility poles and placing them underground by means of drilling a specified length of drill stem below the ground approximately 4 feet deep. After an appropriate length of stem has been installed, a flexible "conduit" will be pulled back the length of drill stem. This conduit will contain the new underground electric line replacing the one on the poles. Pad mounted electric transformers and junction boxes will be placed behind the curb on the Utilities' Right-of-way replacing those mounted on the poles. Conduits will be installed between the pad mounted transformers and the secondary utility poles. Customer services from the pole to the residence will remain overhead.
By placing these high voltage cables underground, we reduce our exposure to animals, lightning, vegetation, and most of all, ice. What this means to you, the customer, is more reliable service and less outages. In the event of a service interruption, the duration will be shorter and limited to specific homes instead of entire neighborhoods. Benton Utilities will also save thousands of dollars annually by eliminating tree trimming in these areas, enabling us to concentrate solely on our main feeder circuits.
If you have concerns about this conversion, you might drive through the Wellington Pointe and Hidden Valley neighborhoods. The electric crew has already converted the entire Wellington Pointe subdivision to underground power, and Hidden Valley is approximately 75% complete! Property damage is very minimal using a directional boring machine, and the results are well worth the inconvenience involved during the installation.
In closing, if your power is supplied from a pole in your back yard, you can expect to see Benton Utilities workers hard at work installing underground power soon!! We will post areas scheduled for conversion on our website as soon as this information becomes available.
Benton Utilities is dedicated to providing the most reliable service at the lowest possible cost to you, our customer.
Sign Up
Email & Text Alerts